Hi there! I was invited by Elaine from
Freehand Scraps
to be
Nov Guest Designer.
She sent me a beautiful kit called
Sweather Weather
. This kit is just so pretty!! Perfect for fall, thanksgiving and everyday theme too :)
So here I am again to show you a simple tutorial on how I created one of my layout.
I really love this particular paper from Fancy Pants. The frames really attracted my attention. And I also love the back of the patterned paper too. So I came up with a perfect solution - to use them together.
What I did was to cut the paper almost into half. The back of the paper (green) I turned it to the front and voila - you can have the best of both paper :) Layered it with a kraft cardstock. In the middle, I "joined" it with a strip of border punch.
Next, you'll need to stick the shown sticker onto a transparency, cut the outline. The reason why I used a transparency because it's clear and I wanted to cut the sticker into half. You can always opt for paper.
Cut these 2 brackets from the cards paper.
Ta daa... here's the completed layout...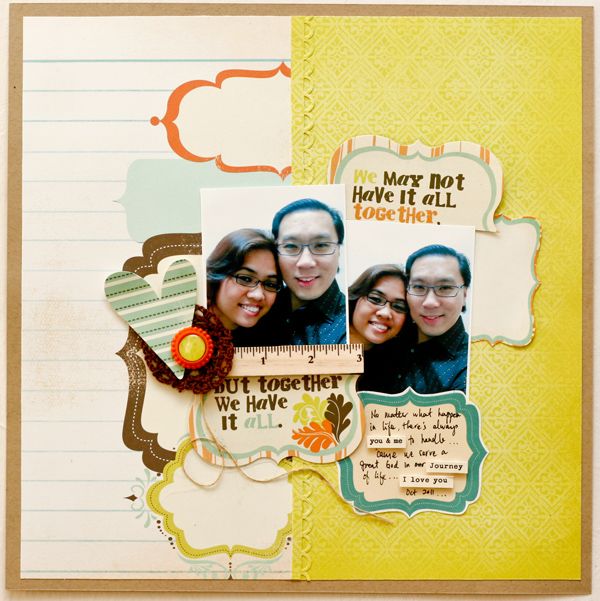 From this layout, you can clearly see how I assembled all the papers & embellishments together.
Close-up shots: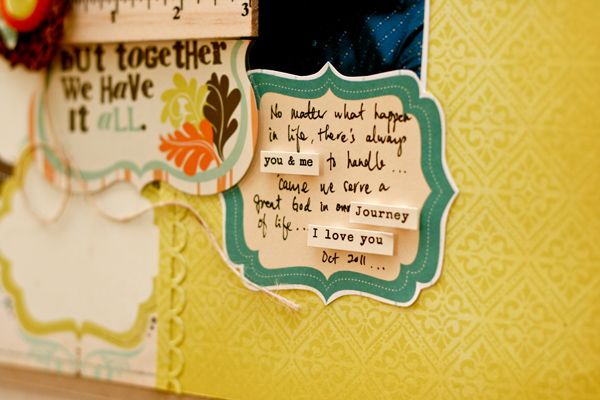 I used the Cosmo Cricket's Tiny Text as part of my journaling. To raise the tiny text, I adhered foam dots.
I seriously adore the wood ruler and also the crochet flower. The button by Epiphany Craft is so cute!
Hope you enjoy this tutorial & have an awesome day! Will reveal the rest of my creations soon :)
Xoxo Jessy