How time flies and we are bidding 2011 farewell soon! 2011 has been very good to me. I am still smiling whenever I think about it. So without further due, let's go thru my fav layouts of the year...
January - This layout is my fav of all favs because I love that man so much and of course the Studio Calico stamps too. This got to be pubbed in the Create: Stamping magazine. How cool eh?
February - Basic Grey has always been one of my fav manufacturer and I created this layout after our V-day celebration.
March - My first time scrapping this pretty girl called Telia. She's the daughter of the scrapping diva, Emeline Seet. It's also my first layout for the Nook kit club. Also glad that it got picked for Create: Families magazine.
April - I still remember that I was sick back then and created this. I really liked how it turned out tho I was feeling so lousy. Lol.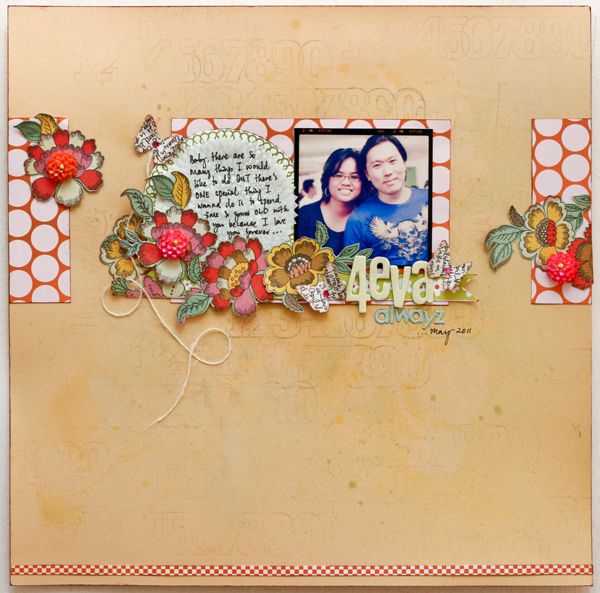 May - Totally diggin' the Studio Calico number stamps and I went all out to do stamping all over and not forgetting misting too. Love how this turned out to be like digital scrapbooking like kinda layout. I miss digital scrapbooking :(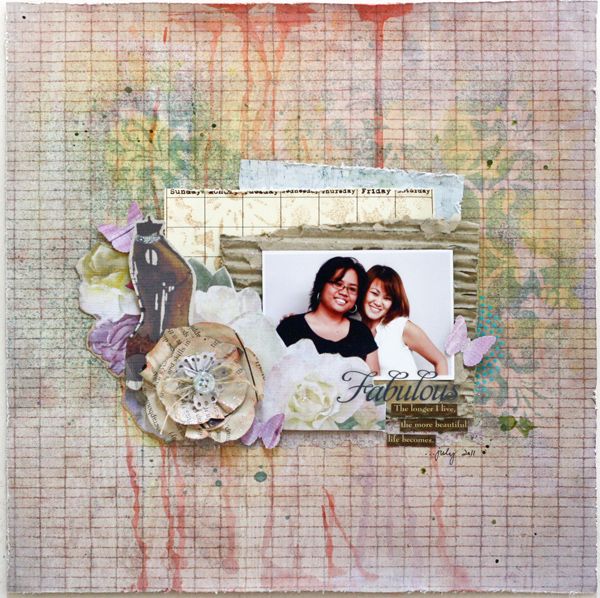 June - That's my friend, Karen Hughes. She is one fun girl to be with. This is my fav mixed media layout because I went to town for the Smooch spritz. I had so much fun creating this whole piece colorful and not forgetting... fabulous!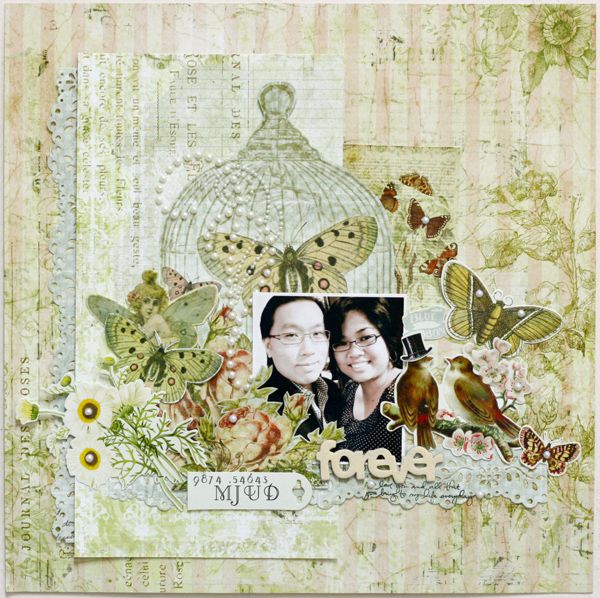 July - Receiving the Pink Paislee collection from YSS made me go crazy!! I totally love this line because it is so shabby n& romantic. This layout is pubbed in one of the Brazillian book and I am grateful for that.
August - One of my fav using products by Donna Salazar Designs. I am happy that I can pulled off a shabby, pink and romantic layout. It is just so fun to do lotsa fussy cutting. My fav thing to do *wink*
Oh yeah, this got pubbed at ScrapStreet magazine :)


September - Crate Paper : Random has to be my fav this year. Whenever I play with CP, I always get lost. I love their chippies to bits!! I can just pile and pile the chippies... ;p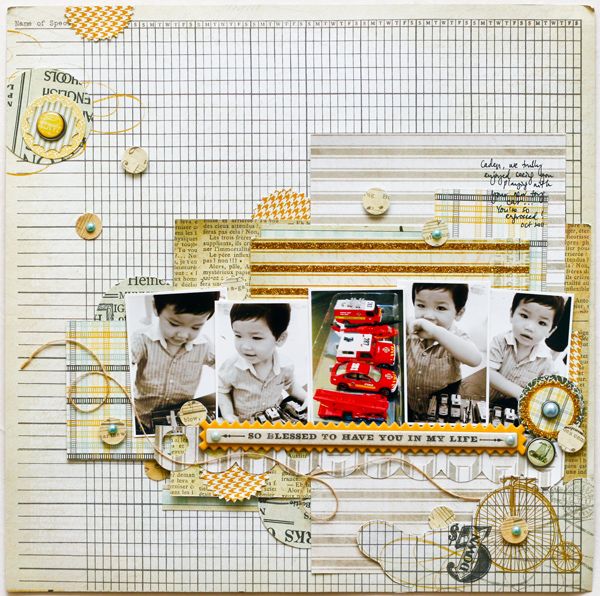 October - My nephew, Caden is one of the cutest boy I have ever seen. He was so engrossed with his cars that I have to capture the pics. Love all the different paper by My Mind's Eye on this layout.
November - I was given the opportunity to guest for Freehand Scraps and I was given a beautiful kit, mostly filled with Fancy Pants. Cindy came to visit and had a short photo shoot session. I love these photos so much that I have to scrap them :) Another thing to smile about... this got chosen to be featured at 2peas header @ gallery home!
December - Lastly, a layout about our godson, Adam. Love this Doodlebug christmas line : Santa's Workshop. For the past 3 years, we have been spending Christmas with Adam. Unfortunately, this year we couldn't join along. Missed this boy alot. Can't wait to travel with him again :)
So there you go on my 2011 fav layouts. I am glad to go through all my layouts and it definitely brought back alot of wonderful memories. This year, I also got chosen to design for 3 manufacturers ie: Donna Salazar Designs, Doodlebug & Basic Grey. I am still pinching myself for that but am grateful for such opportunities. God is good!
Thanks for dropping by and thank you for all your tremendous support and encouragements throughout the year. I pray that we will have a good 2012 together.
Happy New Year 2012!!
Xoxo Jessy