Hi creative peeps! I am so excited that Celine Navarro asked me a couple months back to be her blog guests or you can say contributor... I said yes. Time to use up those pilling stash too. Lol. The whole intention is to share inspirations and simple tutorials to her blog readers and also on mine. So you will see me appearing at her blog with a tutorial and also a layout on her sketch monthly. Do check them out
HERE
.
So this is my first tutorial for Green Frog Studio. I am still grateful for this wonderful opportunity to work along with Celine and the rest of the talented ladies. Since ombre is such a big trend these days, it gave me an idea to create one. Today I would like to share with you a simple tutorial on creating an ombre tag. For this tutorial we will try emboss resist and simple coloring technique.
Here we go...
First, you'll need to prepare a craft sheet, a background stamp, embossing ink pad and clear/white embossing powder.
Apply the embossing ink onto the stamp. Next stamp in onto a white cardstock.
Immediately pour the embossing powder onto the stamped image.
The remaining of the powder you may pour back into the bottle.
Next, grab the heat gun and start to apply heat to the embossing powder. Do not let your heat gun be too near to the cardstock or else it will warp.
Here's the effect of the embossing.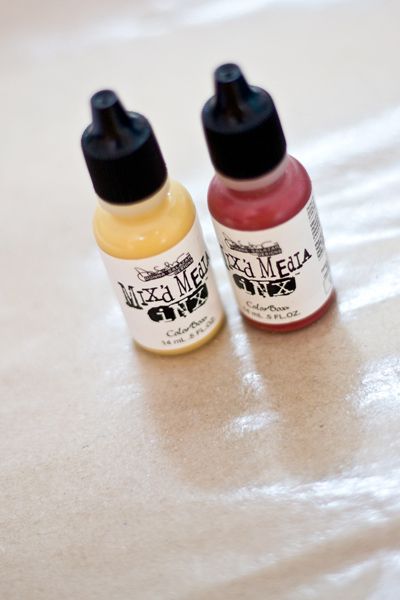 To do the coloring, I used Donna Salazar's Mix'd Media Inx refill. You may also try using watercolor or mist.
The inks are a little thick and therefore I sprayed them to have a watery effect.
Then, I used wet tissue to do my first stroke which is red, followed by orange and lastly yellow. If you find the color too tense, you can spray some water onto the cardstock to dilute.
Here's the final result. Once I am done with the coloring, I die-cut the cardstock into a tag.
Ta daa... here's my completed ombre tag with pretty embellishments! It can be an add-on to your layout, card, gift tag or even a bookmark.
Hope you enjoy today's tutorial and can't wait to see your take on it. Thank you for stopping by and have a lovely day!
Xoxo Jessy