Hello again. Yes I know, I am guilty as charged! Promised to show you my PL Week 4 like a month back but it's getting tougher each week. Mummies will have sympathy on me cause they know how crazy. Hehe. Katelynn is getting older now and she wants my attention even more! She totally know that being cuddled to sleep is way better than falling asleep by herself. Lol. I thought about baby sling/carrier to use at home but I didn't quite like the idea, afraid that it will form a habit and furthermore Malaysia is a HOT country. I don't think Katelynn wants to be drenched by my sweat. Eeww.
She is getting cuter & super-cheeky by the day. She loves to chat & I love listening to her cooing all the way! Giggling & smiling are what she enjoys too. Lil feisty girl is getting aware of what her lil mouth can do too. She loves to suck her fist (fingers, sometimes), sticking out her tongue and has licking fetish. She literally want to taste everything. No joke! It is really funny seeing her trying out the stroller seat pad or the sofa or my shoulder. Haha.
So, yesterday I managed to pull week 4 (of course I had to do like ten thousand times of pit-stops to get it done)! I am enjoying the mummy's duty but it can be overwhelming when she is so sticky & clingy. But above all, still happy that I can slowly take time out to document her life weekly. She better be appreciative with all these 'hardwork' mummy did for her! :P
So present to you PL Week 4 spread...
PL Week 4 - Left Page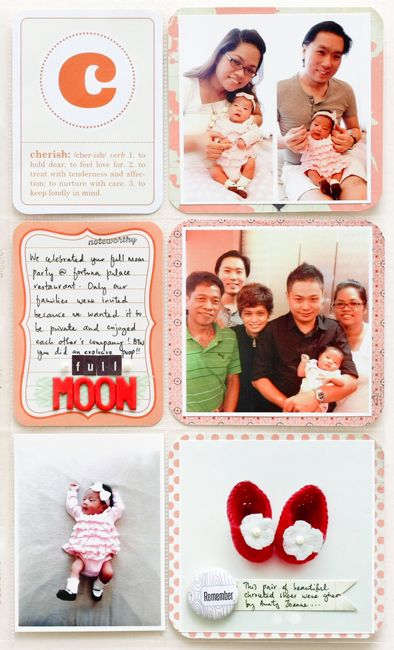 PL Week 4 - Right Page
Before I bid farewell, here's a happy-cheeky pic of Katelynn at week 10.
Psst... I have started Week 5 today! Whee!
Till then, my sweet friends :) Have a lovely weekend.
Xoxo Jessy