Hello again!! It's time for another exciting month at
Scrap Around The World
. We had awesome entries last month and the talents all around the world are just so amazing. Thanks so much for playing along with us. So this month we have another challenge that will make you grab your papers and start to create...
It is pretty simple to join the challenge. Let me share with you....
All you need to do is be inspired by the mood board (in ANY way)
& use our sketch as your starting point.
(No need to tell us HOW the board inspired you if it is OBVIOUS,
otherwise please let us know
- a couple of lines explanation is all that is vital for us).
**The above image MUST appear on the blog post containing your challenge
entry -you also need to mention that you are playing along with the current
challenge at Scrap Around The World & LINK UP TO IT please.**
(not to your entire blog)
WHAT YOU NEED TO DO!


1. Be inspired by ANY ASPECT of our mood board
(this could be just ONE aspect, many aspects or EVERY aspect!)
Let us know what inspired you unless it is obvious!
AND
2. Use our sketch as your starting point
(We need to SEE that you started off with our sketch -
no need to follow it entirely but please it needs to be visible in your layout).
3. Both the sketch & mood board images
OR THE COMBO IMAGE OF BOTH
MUST appear in your challenge entry.
4. You must mention in your post that you are playing along at
Scrap Around The World & link back to us.
5. Link us please to YOUR BLOG POST NOT your entire blog.
6. Turn off your word-verification if you would like some
of our
Design Team members to comment on your entry.
7. Please check our RULES OF PLAY HERE before you begin your entry!
_____________________________________________________
Here's my layout for the challenge...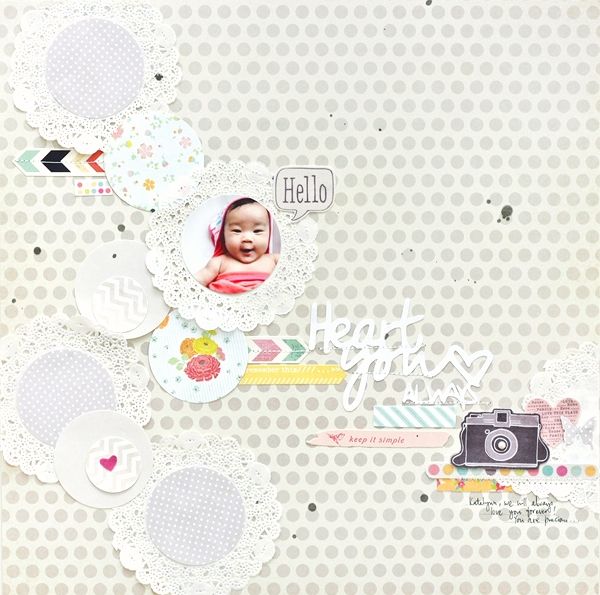 I was first inspired by the flowers on the cake & also the doily from the last photo. As I built up each layer on my layout the rest of the colours (mint, peach tones, grey & white) just came together perfectly. I loved translating the sketch & mood board through the use of delicate doilies for this page of my tiny baby girl!
We have amazing gifts from these sponsors this month. Do stop by at
SATW
to have a closer peek of those gifts! Click on the logo for more info about our wonderful sponsors...
Thank you for coming by and I hope to see your beautiful entries at
SATW
soon! Do check out SATW for more deets & all the inspirations by the talented design team members.
Xoxo Jessy